Beth 8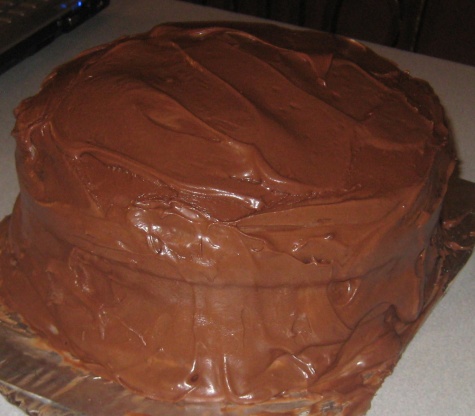 A local restaurant serves this cake it is delicious! By looking at the recipe it looks complicated by after making it, it wasn' that bad! I copied the original recipe, but I used all purpose flour and I didn't sift anything. It still turned out great!

This recipe was made specifically to be shared elsewhere (because of the mocha frosting), & that's exactly what happened ~ My other half was most happy to take it to work & share with co-workers, & 6-7 of them devoured it in no time! It definitely rates a big THANK YOU & 5 stars!! [Tagged, made & reviewed for one of my adoptees at the tail end of the current PAC]
Cake: Melt chocolate; set aside to cool. Cream butter in large mixing bowl; gradually add sugar beating well. Add eggs one at a time, beating well after each addition. Add chocolate and vanilla; Mix well.
Combine flour, soda and salt; add to creamed mixture alternately with sour cream, beginning and ending with flour mixture. Stir in boiling water. (Batter will be thin).
Pour batter into 2 greased and floured 8 inch cake pans. Bake at 350°F for 30 to 35 minutes or until toothpick comes out clean. Cool in pans for 10 minutes; remove from pans and cool completely on wire racks. Split cake layers in half horizontally to make 4 layers.
Filling: Beat whipping cream, vanilla and powered sugar together until soft peaks form. If needed add a little more powered sugar to get to thicken.
Spread filling between layers.
Frosting: Beat first 5 ingredients together until light and fluffy. Add cream if too stiff. Put icing on top and sides of cakes.