vrvrvr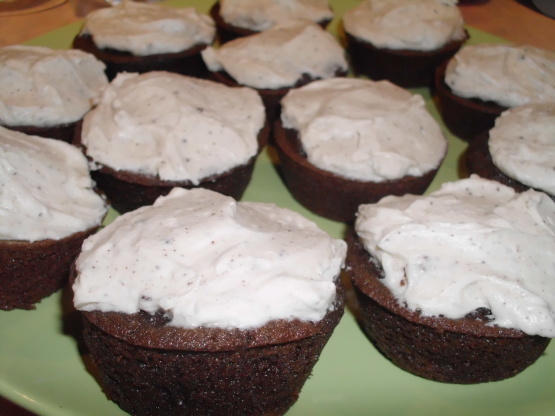 Top Review by vrvrvr
I had better luck with these, but based on the previous review, I made a couple changes. I used only white sugar (1 cup) and I used 2 eggs. They're moist, and no problem with the cupcakes falling apart. I got exactly 18 cupcakes and baked them for about 15 minutes. Now, are they super mocha-y? No, not really (but then again, I didn't have that teaspoon of coffee flavoring to add.) However, I love the fact that they are not overly sweet, and the barest hint of coffee flavor is nice. They're the perfect vehicle for a coffee frosting (5 T. butter, 1 T. shortening, 2 c. powdered sugar, 1 tsp. vanilla, 1 tsp. instant coffee, pinch salt, dribbles of milk to smooth) and everyone who's tasted them is swooning with happiness. Very delicious!
Cream butter and sugars, beat til light and fluffy 2-3 minutes.
Add Egg.
Combine milk and coffee.
Alternate adding dry ingredients with wet.
Fill cupcake liners 1/2 - 3/4 full.
Bake 16-20 minutes at 350 degrees.
Tip add strong coffee in place of liquid in your favorite icing recipe.