Mocha Chocolate à La Paris
Annacia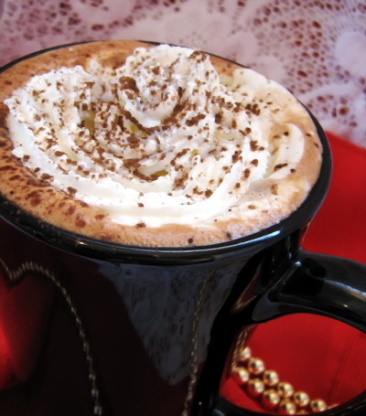 Hot mocha chocolate from Health magazine.

Wonderful. I used Double Dutch Dark Chocolate coco along with the chocolate and a small amount of Splenda for the sugar. It's rich and decadent feeling without destroying the diet. I just sprinkled some of the coco on top because I was too lazy to grate the chocolate. Also because of my morning lazy streak I just put everything into a sauce pan and whisked till it was all melted and hot (about 5 mins as I made just a latte mug instead of the whole recipe). The end result was just delicious. :D
In top part of a double boiler, mix milk, chocolate, cocoa, and sugar. Place over simmering water and cook, stirring occasionally with a whisk, until chocolate has melted and mixture is smooth and hot, about 20 minutes. (Don't have a double boiler? Heat chocolate mixture in a small saucepan over a larger pan of boiling water.) Stir in coffee and heat through.
Pour into mugs, top with whipped cream and the chocolate shavings, if desired, and serve while warm.