Pneuma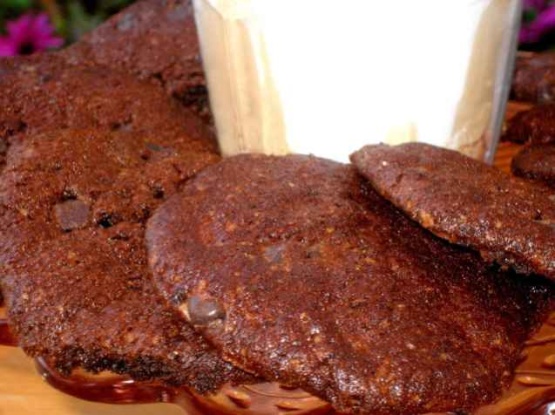 What a great pair! Mocha and chocolate! Delish! I ran across this on line, decided to try them and all I can say is WOW!

These cookies really are delicious! They stay soft and have a great balance of chocolate & coffee without being overpowering. I followed other reviewer's advice and increased the cocoa to 2T., but did not increase the vanilla. It seemed fine. One thing we are going to do is add mint extract instead-- I think these will taste like my hubby's favorite drink from 'Bucks during the holidays--a mint Mocha! I used a medium scoop from Pampered Chef & only got slightly more than 2 dozen, so I am going to double this next time. Thanks for the great recipe!
Preheat oven to 350°.
Combine flour, cocoa, baking soda and salt in a small bowl. Beat butter, brown sugar and granulated sugar in a large mixing bowl until light and creamy. Beat in egg and vanilla extract.
Combine coffee crytals and water in small bowl, stir until coffee is dissolved. Add to sugar mixture; mix well. Gradually mix in flour mixture. Stir in morsels.Drop by rounded teaspoon onto prepared baking sheets.
Bake for 10 to 12 minutes, or until edges are crisp. Remove to wire racks to cool completly.