Mocha Brownies With Coffee Frosting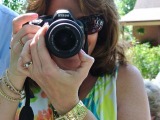 I love this recipe because it is easy to mix up, I usually have everything on hand and they taste woooonderful. The frosting is optional.
Directions
Preheat oven to 350°F Grease a 13x9 inch pan.
Melt shortening and butter over low heat or in the microwave.
Remove from heat and add cocoa, blend well.
Add sugar and mix well.
Dissolve instant coffee in hot water and mix into creamed mixture.
Add eggs one at a time, beat well, by hand, after each addition.
Stir in vanilla, flour, and salt.
DO NOT OVER BEAT!
Bake 25-30 minutes.
Cool completely before frosting.
For frosting, cream butter and vanilla.
Add powdered sugar and mix in well on medium speed.
Dissolve instant coffee in milk and add to mixture.
Beat on high until light and fluffy.