Great little dessert for the holidays, or anytime of the year.
Directions
Combine pudding mix and pie spice in a medium bowl.
With whisk, add evaporated milk, mix until well blended.
Add pumpkin, mix well.
gently fold whipped topping into pudding mixture.
Spoon into serving dishes.
Top with additional whipped topping and pie spice, if desired.
Serve immediately, or cover and refrigerate.
Reviews
Most Helpful
Made this tasty mousse today. It is a little too sweet for me; however, DH enjoyed it since he has a bit of a sweet tooth. : ) Next time, I will reduce the sugar significantly or will eliminate it completely. This mousse comes together quickly and uses ingredients that you generally have in the pantry and who doesn't keep whipped topping on hand. : ) Made for the Sweet December tag game, December, 2014.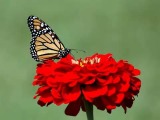 The title says it all Mmmmm... very quick, easy and almost as guilt free as a desert can be. :) I left out the 2 TBS of sugar and we did not miss them, used cinnamon as that is what is listed in the ingredients (directions state pie spice which think would so be good) did not use additional whipped topping on top instead sprinkled with some graham cracker crumbs and a little additional cinnamon. Thanks for the post, can see this being a regular in our home.