loof751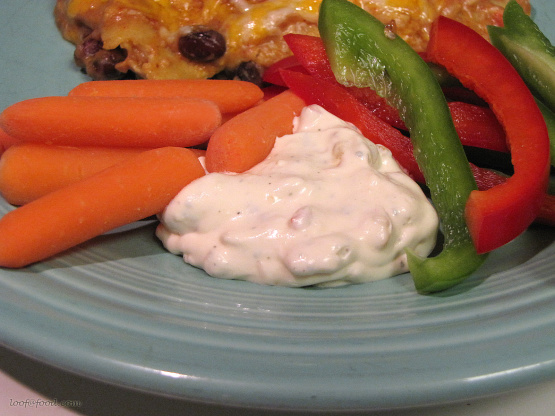 I made this dip up in desperation with what I had on hand. Turns out, I've been asked for the recipe and requested to make it for all family parties in the future. I'd call that a success! Preparation time includes one hour to roast garlic and cooking time indicates time to chill the dip before serving.

This is a really tasty dip! I don't care for raw onions so sauteed some yellow onion and used that instead of the green onion. I served this with carrots and bell peppers for dipping but it was good on triscuits too - thanks for sharing the recipe! Made for Fall PAC 2012
After chopping the sundried tomatoes, place in a bowl and cover with water to soften while you continue with the recipe.
Roast garlic by cutting the top off of a whole head, then drizzle with olive oil and salt. Place in 400F oven and allow to roast for about an hour.
In mixer, place sour cream, cream cheese and butter. Cream with wire whisk.
Add tobasco, Worcestershire, basil and salt.
When garlic is done, squeeze out 4 cloves (or more to taste) into mixing bowl and whip into your cream cheese blend.
Drain sundried tomatoes. Add tomatoes and green onions to mixing bowl and gently fold in with spatula.
Chill for at least an hour before serving for best flavor.