KaraRN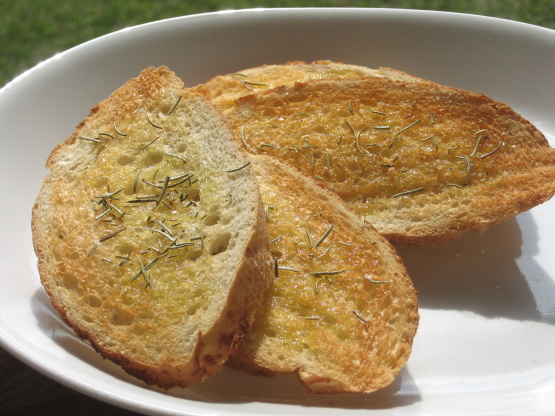 An excellent, easy, alternative to expensive gourmet variaties.

Top Review by KaraRN
Made this recipe for fall PAC '07. Made using Lowry's garlic with parsley, rosemary leaves and Extra Virgin Olive Oil. No need to add any other herbs. This was very yummy and so simple to make! Thanks for the recipe! Will make this a regular with my family.
6 -8

pieces reg. bread
garlic salt
dried rosemary (rosemary is reccomended) or any other herbs (rosemary is reccomended)
In broiler, toast bread slices until golden brown.
Remove and drizzle with o.o.
Sprinkle with garlic salt and rosemary.
Put back into oven just to warm the toppings. Serve immediately.