Mjadra - Lentils and Rice
Prep 10 mins
Cook 30 mins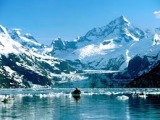 This is a typical Middle Eastern recipe given to me by my niece. Her in-laws, who are from the Middle East, gave this recipe to her and it has become a staple in their home. I think it's fantastic, too. It could work as a vegetarian main dish, a side dish or lunch. It is traditionally served with a salad made of the following: chopped lettuce, chopped tomato, chopped green pepper, lemon juice and salt. I like to mix the mjadra right in with the salad. Yum!
8 cups water
1 cup rinsed lentils
1 cup uncooked rice (I use brown rice)
1 medium onion, julienned
1⁄4 cup olive oil
salt and pepper, to taste
Directions
Combine water and lentils and boil for 10 minutes.
Add rice to the boiling water, keeping the lentils in the pot, and boil for 15 minutes - until the rice starts to bubble at the top. Stir occasionally.
Meanwhile, saute strips of onion in olive oil and add to rice and lentils.
Stir in salt and pepper, to taste. You definitely will need the salt and pepper. You may need to experiment with the amount.
Simmer this mixture for about another 5 minutes.
Eat as is or serve with a salad (as described in the intro.).
Reviews
Most Helpful
I was so very happy with the way these lentils turned out. Talk about simple and delicious comfort food!! They were very easy to make and the directions were spot on... couldn't have been easier! We didn't have it over salad as suggested but that's only because we were missing the green peppers and tomatoes. I will try it over salad next time and there will be a next time! Made for ZWT6 for fellow Zestie - Kathy.

This is a wonderful way to fix lentils and rice. I used short grain brown rice and brown lentils. The water was reduced to 6 cups with the rice being added first. After the rice cooked for 15 minutes the rinsed lentils were then added and cooked an additional 30 minutes. The recipe was dressed up a bit with some fresh garlic. It was a little bland and the first night we topped it off with sriracha hot chili sauce which was okay. Leftovers were warmed and feta cheese crumbled over the top. The feta cheese added just the right flavor for us. Made for Aussie Swap.
Always enjoy lentils and rice so I was pretty sure this would be up my alley. It makes a nice easy side dish, although if I was eating it on it's own I'd add some garlic or spices. I really wasn't sure about using that much water to cook 2 cups of grain, so even though I used brown rice, I reduced the water down to 6 cups. It's still more soupy than a pilaf, but I'm sure it's meant to be that way and I was happy with how it turned out. I'll enjoy the leftovers with salad as recommended. Thanks for sharing LIG!