Hey Jude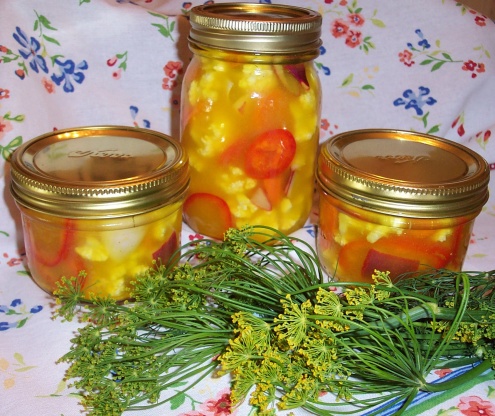 These refrigerator pickles are easy and versatile. The recipe calls for cauliflower and carrots but you can use any equivalent amount of cucumbers, broccoli, peppers, brussels sprouts, baby squash or baby zucchini. These will keep for several weeks in the refrigerator. This recipe comes from the Chicago Tribune Good Eating section. Prep time does not include standing and chilling time.
Arrange cauliflower and carrots in four half-pint canning jars; set aside.
Heat remaining ingredients to a boil in a saucepan over medium heat, cook 10 minutes.
Turn off heat; let steep 5 minutes.
Pour mixture over the vegetables to cover.
Cover jars tightly; cool to room temperature, about 1 hour.
Refrigerate at least three days before serving.