Ann 3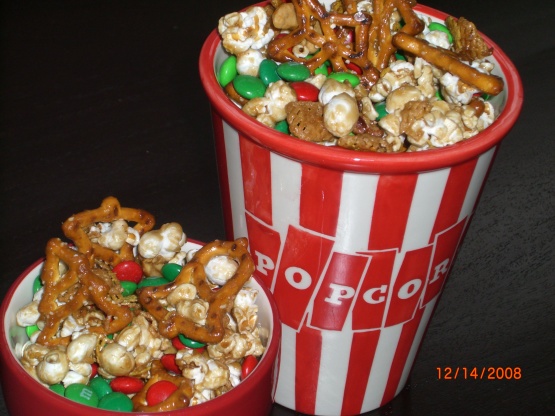 I got this from my dear friend Mindy and we refer to it as binge mix. Once you start you can't stop! Kids and adults love it. You can make it festive for any holiday or party with colored m & m's.

This is a wonderful snack mix and I could definitely see how it could be addictive! I really like the texture of the cereal with the popcorn and the peanuts--it makes it SO much better than plain old caramel corn. My husband and daughter agree: it's yummy! Made this for Pick a Chef (PAC) Spring 2009.
In a large bowl, stir together popcorn, cereal, peanuts and pecans. Transfer to a greased roasting pan.
In a heavy 2 or 3 quart saucepan, combine brown sugar, butter, and corn syrup. Cook and stir over medium heat to boiling. Boil 5 minutes without stirring (make sure you boil on low heat or it will burn). Remove from heat and stir in vanilla and baking soda.
Preheat oven to 250 degrees. Pour sugar mixture over popcorn mixture. Stir gently to coat. Bake for 1 hour. Pour onto waxed paper and cool. Store in an airtight container.
I add M& M's after it cools to make it an extra special treat! You could even add pretzel sticks if you wanted it more salty. Enjoy!