vrvrvr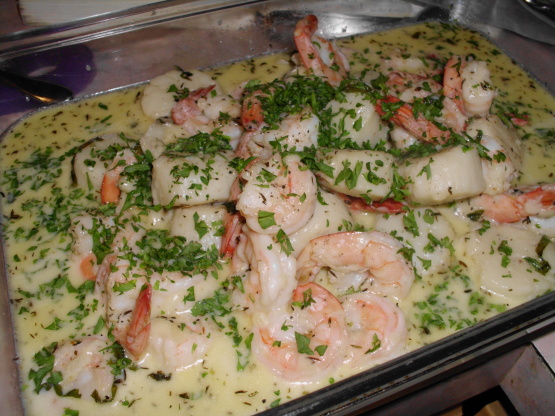 We have this over rice, noodles, or sometimes with just a baked potato.
Top Review by vrvrvr
The flavors in this dish are outstanding, and it made a great special occasion (Father's Day) dinner for us. Very rich. I do wish the sauce had thickened more. It was very thin. Also, following this cooking technique, I could not get a good sear on my scallops. I added them to the pan over high heat before adding the shrimp, but I couldn't get that appealing char on them at all. These minor concerns aside, everyone at the table loved this seafood dish and it came together easily. I served with sides of orzo, crusty multigrain bread, corn on the cob and a mixed greens salad. Thanks Mizz Nezz!
Melt butter and oil in lg skillet.
Add all the seafood and cook and stir for 2 minutes.
Add seasonings, mix well.
Mix cream and sherry; add to skillet.
Bring to a boil; cook 1 minute.
Remove from heat and stir in the parmesan cheese.