Marlitt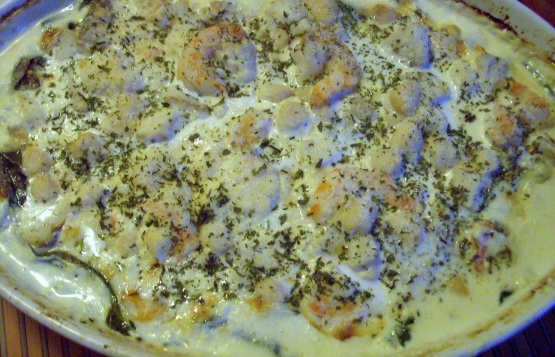 This is another 1 of my "found on an old sheet of paper" recipes that I modified slightly & it did say that it was orig a Food Network recipe contributed by Martha Bouchard. I love the RZ ingredient search! W/little time or effort, I easily found out there are 205 "florentine" recipes here: 2 w/scallops, 5 w/shrimp & 0 w/haddock or sweet potatoes. None of the 7 I did find resembled this unique recipe in any way. Voila! Time to enter a new & intriguing seafood recipe. :-) *Enjoy*

This is an awesome recipe!!! The taste is wonderful!! I also saw this recipe on the food network site and followed the recommendation to add cayenne pepper and nutmeg. We were addicted. It was also so easy to make. The other recipe double the ingredients which we did. A definite keeper and will make for guests. Can't wait to have it again.
226.79

g haddock (skinned, boned & cut in bite-sized pieces)

226.79

g shrimp (peeled & deveined)

226.79

g sea scallops (cut in bite-sized pieces)

1

large sweet potato (peeled, halved & boiled till fork tender)

226.79

g bag baby spinach leaves (rinsed & stems removed)

473.18

ml heavy cream (divided per prep)
salt & freshly ground black pepper

118.29

ml fresh parmesan cheese (grated, 8 tbsp divided per prep)
fresh parsley (chopped, for garnish)
Preheat oven to 350°F.
Spray a med-sized casserole dish w/baking spray. In a bowl, mix haddock, shrimp + scallops & set aside.
Slice cooked sweet potato very thinly & layer slices over bottom of the casserole. Cover potato layer w/uncooked baby spinach leaves.
Gently pour 1 cup cream over potatoes & spinach. Season to taste pref w/salt & pepper.
Sprinkle w/6 tbsp grated Parmesan & evenly add mixed seafood in a layer. Pour 2nd cup of cream over the seafood & sprinkle w/last 2 tbsp grated Parmesan.
Bake for 25-30 minutes. Sprinkle w/fresh chopped parsley & serve immediately.