Tisme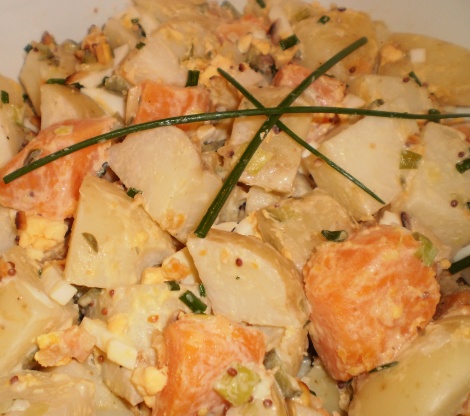 I love the idea of using the 2 different potatoes in the this salad and I am hoping to make it while we are on holidays, from Recipes+

I love these salads with sweet potato and regular potato combined. I used a gold potato, as I've never seen pink ones here. I did dice the potatoes a bit smaller than suggested, as we don't like big chunks in potato salad and cooked them on the stove, which worked out quite well. Could not find the gherkins (later found them hiding behind the OJ), so I added some capers which added a nice touch of sharpness. I did add a bit more dill, which I love. Delicious with ribs for lunch.
Place potato and kumara in a single layer, in a large steaming basket over a pan of simmering water (don't let base of steamer touch the water, cover with a lid or foil and steam vegetables for 12 to 15 minutes or until tender. (I would use my electric 3 tier steamer but if you can't steam I don't see why you can't boil in water till just tender and drain well).
Remove from heat, drain and transfer to a large bowl to cool.
Meanwhile whisk sour cream, mayonnaise, gherkins, dill, mustard and juice in a small bowl.
Combine potato, kumara, sour cream mixture and egg in a large bowl.
Serve sprinkled with almonds.