ImPat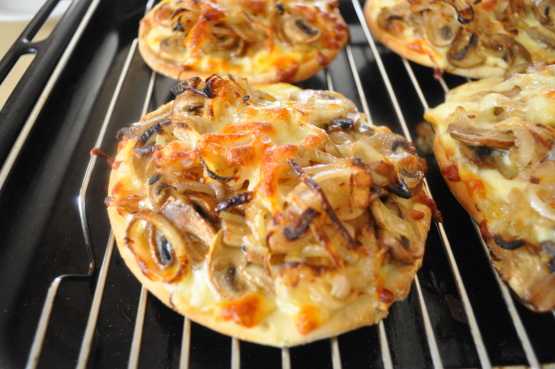 I love mushrooms and this is a grand way to show them off! Adapted from BH&G!

Top Review by ImPat
If you like the sharpness that comes from parmesan cheese and creamy stringy mozzarella coupled with the sweetness of caramelized onions and the earthiness from the mushrooms then this pizza is for you. I made as 4 individual pizzas and cooked them on a rack at 200C fan forced for about 12 minutes, I did use grated cheese (parmesan and mozzarella blend) and put a little on the top, with button mushrooms and red shallots finely sliced and we all enjoyed a delightful pizza snack. Thank you Sharon123 for a great recipe and Mikekey for his recommendation in I Recommend Tag Game.
Preheat oven to 375°F
Place prepared pizza dough in a 16x12x1-inch pan or a round pizza sheet. Arrange cheese slices on top of dough.
In large skillet, cook onions, covered, in 2 tablespoons olive oil over medium low heat for 13-15 minutes, or until onions are tender, stirring several times. Uncover. Now cook and stir over medium high heat for 5-10 minutes longer or until onions are golden. Remove from pan and set aside.
In the same skillet, combine mushrooms, remaining 1 tablespoon olive oil, garlic, and rosemary. Cook over medium heat until mushrooms are tender and begin to caramelize; drain well. Spoon mushroom mixture over cheese. Top with the onions.
Bake in the preheated oven for 25-30 minutes or until bottom of crust is slightly crisp and brown. Cool in pan on a wire rack for 5 minutes. Season with salt and pepper to taste. Sprinkle with parsley. Cut the pizza into 4" squares and serve immediately. Enjoy!
Makes 12 servings.