Mixed Greens With Fig and Wine Dressing
Maito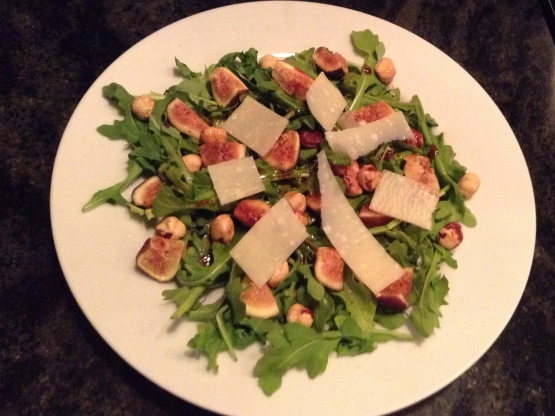 This salad is from Rachel Ray........but simple, few ingredients and with the fig/wine dressing over the toasted hazelnuts and Manchego cheese............mmmmmm.....I served it at a dinner party and it was absolutely loved!!
The dressing really makes this FABULOUS salad so special. The wine shines through nicely, I used Cabarnet Sauvignon. After pureeing the dressing, I felt it turned slightly too thick and maybe lacking bit of zing, but when it's folded in the salad, it's just perfect. If there was more zing from vinegar, the wine would not taste through the same. The hazelnuts are a must!
Add 9 figs and wine to sauce pan.
Bring to a boil. Lower the heat and simmer for 15 minutes, stirring occasionally. Let cool for 10 minutes.
Using a blender, puree the fig mixture. Add the olive oil, brown sugar, vinegar and 1 teaspoon salt and blend until smooth. Season with freshly ground pepper.
Place the greens, toasted hazelnuts and Manchego cheese shavings in a large bowl.
Mix the dressing in with the salad to taste and toss well -- Top with fresh figs slices and more Manchego cheese/hazelnuts.