Mixed Greens with Dried Cranberries and Toasted Pecans
CoffeeB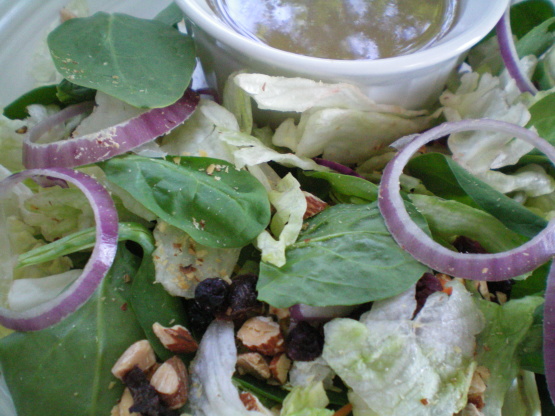 This delicious salad came from the Vegetarian Classics Cookbook by Jeanne Lemlin.

Made this as given although I did include a nicely rounded measure of the dried cranberries (love those things)! We also were very satisfied with the lemon & garlic combo in the dressing! Thanks for sharing the recipe! [Tagged & made in Please Review My Recipe]
Preheat the oven to 350 degrees F.
Toast the pecans in a shallow pan until they begin to release fragrance, about 5 to 7 minutes.
Let cool completely.
Combine the lettuce, mesclun, and onion in a salad bowl.
Just before serving, pour on the dressing and toss well.
Check to see if you need to add more dressing; you don't want to make the greens too wet.
Serve on individual salad plates with the pecans and the cranberries sprinkled on each portion.
To make Lemon-Soy Dressing: Place all the ingredients in a jar with a tight-fitting lid and shake vigorously.
Yield: 3/4 cup.