Mixed Greens' Salad With Apples and Maple-Walnut Oil Dressing
PaulaG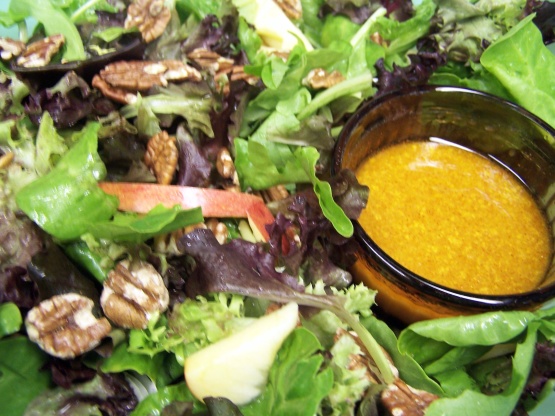 From the August 2005 Cooking Light issue. The walnuts are my addition. Now that apple season is about upon us, it's time to sample different varieties. This salad recipe is a good start.

I agree that the dressing puts this over the top. Love, Love, Loved it. A friend game me some walnut oil and since I had previously purchased some pure maple syrup I decided to try this recipe. I am glad I now have a special use for both. I used artisian sald a blend of 4 lettuces and I used honey crisp apple. Yummy. Hmm the stars don't work I will have to return and put in 5 stars O I had to put them in 1 by 1- a crazy thing to have to do.
In small glass bowl, prepare salad dressing first and set aside.
Use salad spinner to remove excess moisture from the greens.
*In large non-reactive serving bowl place the sliced apples and toss them with a little bit of apple cider to halt oxidizing.
Next, add the salad greens, a few tablespoons of the salad dressing and toss gently again with tongs to mix.
Serve remaining salad dressing on side along with the toasted walnuts if using.
*For best results, cut up apples and toss with the vinegar right before serving.