Mixed Greens and Pear Salad
Debbwl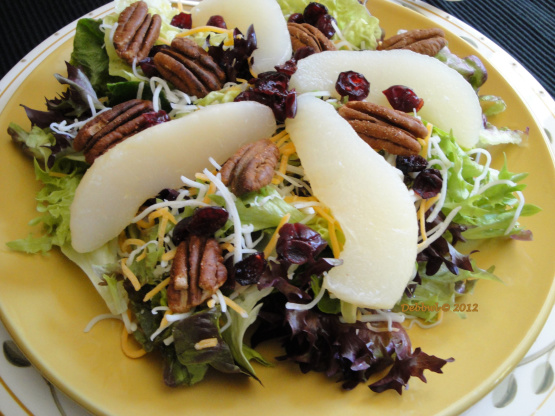 Although the original of this recipe came from the Kraft Foods Holiday 2007 food & family magazine, it has been tweaked quite a bit to satisfy our own preferences.

What an easy way to make candied nuts, great idea. Really love everything in this salad individually and the combination for them worked magic and made a wonderful salad that I'll be enjoying more as the warmer weather rolls around. I have this printed to go into my Keepers folder.
Put pecans, cinnamon & sugar in a zip-lock bag. Seal the bag & toss to coat.
Spread nuts evenly onto the bottom of a microwaveable pie plate & microwave on HIGH up to 1 1/2 minutes or until toasted, stirring every 30 seconds.
In a large bowl, carefully mix greens with pears, cheese & cranberries.
Just before serving add pecans & dressing, then mix carefully.