Mixed Green Salad With Strawberry Vinaigrette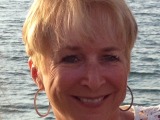 This is so quick and easy but the flavors are outstanding. You can put this salad together in a snap...the combination of the greens, fresh strawberries, feta and walnuts is great paired with the strawberry-balsamic vinaigrette. Adapted from a Bon Appetit recipe submitted by Judy Wilkins.
1 lb strawberry, hulled and halved (do not use frozen)
5 ounces mixed baby greens
1 cup feta cheese, crumbled
1⁄2 cup walnuts, toasted
1⁄2 cup olive oil
3 tablespoons balsamic vinegar
1 tablespoon sugar (or you can use 2 packets of your favorite artificial sweetener)
Directions
Mash enough strawberries to measure 1/3 cup. Place in a blender with the oil, vinegar and sugar and blend until well combined. Season dressing with salt and pepper, if desired.
In a large bowl, combine the greens, remaining strawberries, feta cheese and walnuts. Add the dressing; toss to coat and serve immediately.
Reviews
Most Helpful
Wonderful, colorful delicious salad. I didn't use oil in the vinaigrette just mashed strawberries and Balsamic. The feta cheese that I used came in oil so there was a dribble of Olive oil on the salad. Great do again salad Thanks for posting

It wasn't bad, but it did not go over so well with my guests. The flavor was good but a little too pungent and over powering.

Fabulous, tasty, fresh and very elegant. Guests raved about salad and I gave receipe to my best friend. Her husband remarked he had never had a salad like this and it was delicious!! Easy to assemble. Only difference is I sliced the strawberries for top; they were too large to leave halved. Fantastic recipe!! Its a new staple!! Thanks!! Laura