Mixed Green Salad With Raspberry Vinaigrette
Bergy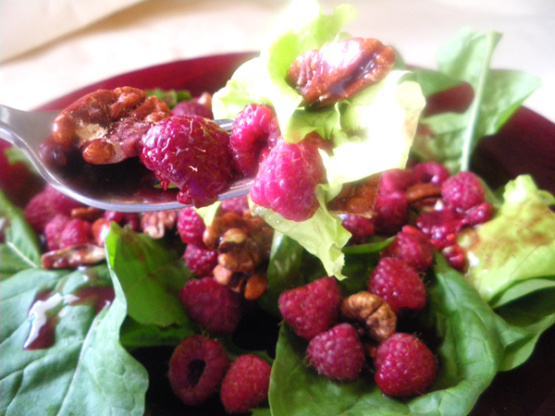 From Paula Deen's Quick & Easy Meals, Special Collector's Issue.
In a small bowl, whisk together vinegar, and next 4 ingredients. Slowly add oil, whisking to combine.
Divide mixed salad greens evenly among salad plates. Top with raspberries and Spicy Pecan Halves. Drizzle with raspberry vinaigrette.
Spicy Pecan Halves:.
1/2 c butter.
3 tbsps sugar.
1/2 tsp salt.
1/4 tsp cayenne pepper.
1 (6oz) pkg pecan halves.
In a medium skillet, melt butter over medium heat. Stir in sugar, salt and cayenne. Add pecan halves, tossing to coat. Cook 3 minutes, stirring constantly; spoon onto wax paper to cool. (makes about 1 1/2 cups).