Mixed Green and Mandarin Orange Salad
ladypit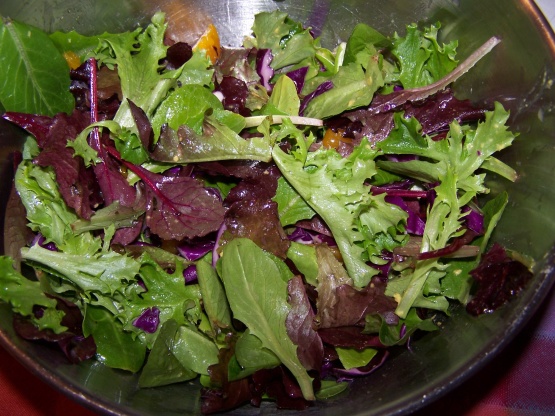 Found this recipe in Shape Magazine and thought I'd give it a try. It is a flavorful and healthy salad and is one of my DH's favorites. Sometimes I add bean sprouts, wontons or crispy rice sticks.

This was a great easy lunch on a rainy lazy day. I halved it for dh and me and our 5 year old (who will only eat a bit). Instead of the romaine and baby spinach mix I used some lovely organic baby greens and added teh cabbage. I didn't have dijon but used spicy brown mustard instead. To these salads I added a cooked diced chicken breast for protein. A really great lunch!
Drain mandarin oranges, reserving oranges in a large bowl and juice in a medium bowl.
To the mandarin juice, add olive oil, vinegar, dijon mustard and pepper. Whisk until blended.
In the large bowl, add lettuce, spinach and cabbage to the reserved oranges.
Pour dressing over all and toss well to combine.
Serve immediately.