Mixed Grain Mushroom Casserole
akgrown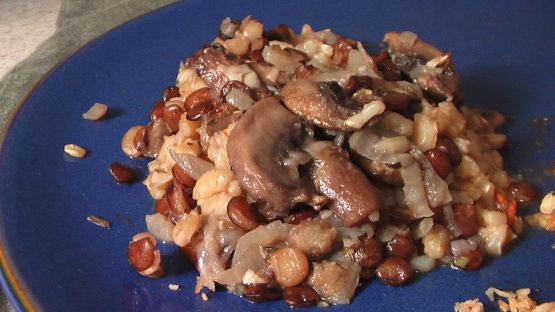 A friend gave me this recipe, its my comfort food now.

I adapted this for the pressure cooker (which I cannot live without, makes grains so quick and easy!) Didn't have any wild rice on hand so I used 3/4 cup brown rice and 3/4 cup barley, only needed 2T of oil, skipped the butter, used beef broth; sauteed grains and onion in oil. added herbs and cooker for 18 minutes then steamed the mushrooms in the residual heat- it all turned out perfectly, and made tons. I will do this again. Thanks for sharing!
Combine grains in a mixing bowl and set aside.
Pour the oil into a 2 to 3 quart casserole which is safe for both stovetop and oven cooking, and place on medium heat.
When hot, saute onion and garlic until tender and translucent, about 5 to 6 minutes.
Add the mixed grains and saute for 1 minute, stirring constantly.
Meanwhile melt butter or margarine (if using) in a separate pan on medium high heat.
When hot, add mushrooms and saute quickly, stirring frequently, until the mushrooms are hot and have just absorbed the"butter" (about 1 minute).
Immediately remove from heat.
Add the broth, herbs, and mushrooms to the casserole with the onions and grains, and bring to a boil.
Season with salt and pepper to taste, cover tightly (use aluminum foil between pot and cover if necessary for a good seal), and bake at 350 degrees for 1 hour.