Mixed Grain and Wild Rice Cereal
ladypit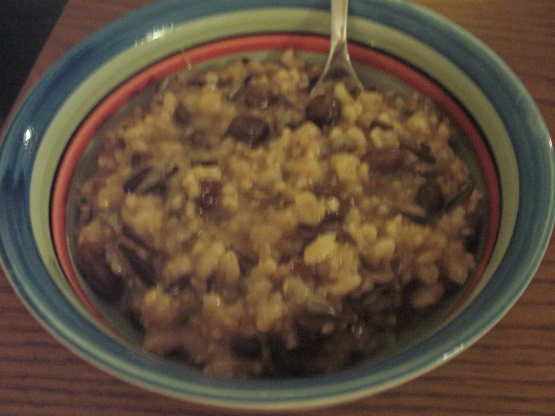 I got this off the internet. I have been looking for some good whole grain cereals. This one is good and very good for you!! If you don't have wild rice, try brown rice.

This is an excellent and filling whole grain cereal. I cooked the wild rice yesterday and then mixed it all in a container (subbing splenda brown sugar for the brown sugar), leaving out the water and butter. This morning at 5:30 I added the water and 1.5 tbsp. butter (I would even go less next time). At first I thought "there is no way this much water will be absorbed" but it worked out beautifully. The dates basically just dissolved into the cereal and the raisins got plumper then I have ever seen them. Plenty sweet I didn't think it needed anything on top. Thanks Sharon!
Preheat oven to 375°.
Grease a 2 1/2 quartcasserole with cover.
Bring 2 cups water and wild rice to a boil;cover and simmer 20 minutes.
Drain; transfer to casserole.
Add barley, oats, raisins, dates, brown sugar,butter, cinnamon and remaining water.
Cover andbake 1 hour 40 minutes, stirring occasionally, oruntil grains are tender.
Serve with honey and milk, if desired.