elanamat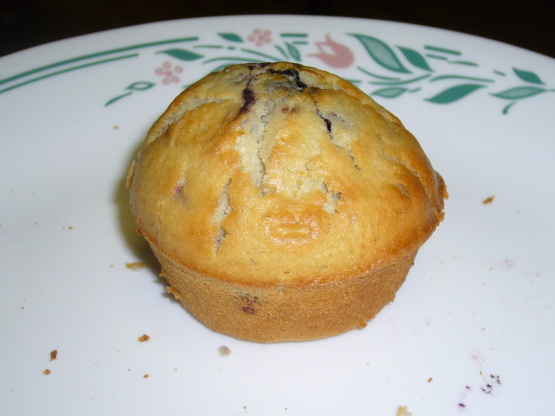 Muffins are very light, raise beautifully! I used the large tins and cooked them an extra 6-7 minutes. After the first batch, i mushed the berries with a fork a little for extra flavor and the muffins dont crumble when trying to butter. Vanilla was a great addition and i also added a tad of cinnamon.
Position a rack in the center of the oven and preheat to 400°F.
Lightly butter twelve 2 1/2-inch muffin cups or place paper muffin cups in the muffin tin.
In a medium bowl, whisk the flour, sugar, baking powder, baking soda and salt to combine and make a well in the center.
In another medium bowl, whisk the milk, oil and eggs.
Mix well and pour into the well.
Stir just until blended.
Fold in the berries.
Spoon equal amounts of the batter into the muffin cups, filling them about three-fourths full.
Bake until a toothpick inserted into the center of a muffin comes out clean, 15 to 20 minutes.
Cool in the pan for 5 minutes.
Remove the muffins and serve warm or cool on a wire rack.