Lvs2Cook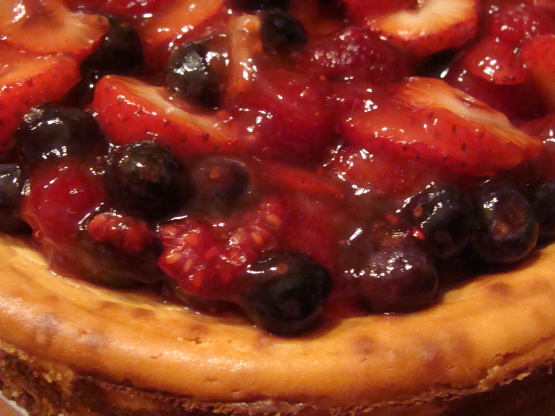 I saw Ina Garden make this yesterday and I had to post it so I wouldn't forget the recipe - it looked great. It is also a great way to use up the currant jelly.

I watched Ina make this last week and knew I had to make it, too ~ I was happy to find it posted here. It was delicious and not terribly difficult to make. I used low fat cream cheese, fat free sour cream, and Splenda blend and it tastes perfect. I DID get a ton of cracks and even though the topping covers them up, I don't like them. Next time I would put a pan of water in when baking to stop some of the cracking. For the topping I used Simply Fruit raspberry and fresh fruit. Thanks for posting!
Preheat the oven to 350 degrees F.
To make the crust, combine the graham crackers, sugar, and melted butter until moistened. Pour into a 9-inch springform pan. With your hands, press the crumbs into the bottom of the pan and about 1-inch up the sides. Bake for 8 minutes. Cool to room temperature.
Raise the oven temperature to 450 degrees F.
To make the filling, cream the cream cheese and sugar in the bowl of an electric mixer fitted with a paddle attachment on medium-high speed until light and fluffy, about 5 minutes. Reduce the speed of the mixer to medium and add the eggs and egg yolks, 2 at a time, mixing well. Scrape down the bowl and beater, as necessary. With the mixer on low, add the sour cream, lemon zest, and vanilla. Mix thoroughly and pour into the cooled crust.
Bake for 15 minutes. Turn the oven temperature down to 225 degrees and bake for another 1 hour and 15 minutes. Turn the oven off and open the door wide. The cake will not be completely set in the center. Allow the cake to sit in the oven with the door open for 30 minutes. Take the cake out of the oven and allow it to sit at room temperature for another 2 to 3 hours, until completely cooled. Wrap and refrigerate overnight.
Remove the cake from the springform pan by carefully running a hot knife around the outside of the cake. Leave the cake on the bottom of the springform pan for serving.
To make the topping, melt the jelly in a small pan over low heat. In a bowl, toss berries and the warm jelly gently until well mixed. Arrange the berries on top of the cake. Refrigerate until ready to serve.