Mixed Bean Salad With Green Vinaigrette
IngridH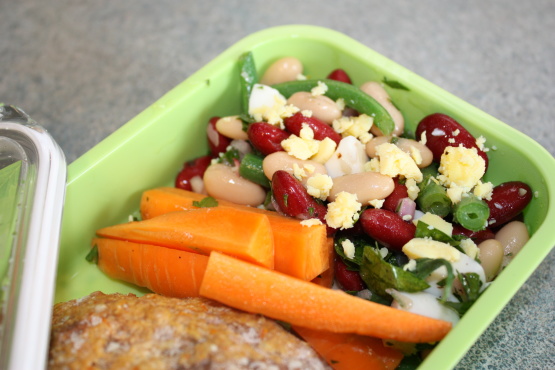 Cook time is marinating time.

This salad is both beautiful and delicious! I used fresh green beans, and substituted white kidney beans for the garbanzos, as I don't care for them. The tarragon brings a very nice, fresh flavor to the dressing that I enjoyed very much. I agree with the other reviewer, that fresh green beans should be used if at all possible, as the gorgeous vibrant color is part of what makes this so good. I'll be making this again, very soon!
Mix beans together in a large bowl.
Slice eggs in half, removing the yolks and set them aside.
Chop whites and add to beans.
Place remaining ingredients except yolks in a small bowl and quickly whisk until just blended.
Pour dressing over beans, mix and marinate 15 minutes at room temperature.
To serve spoon salad onto plates and force yolk through a sieve onto beans.