Mixed Apple Salad over Greens
Derf2440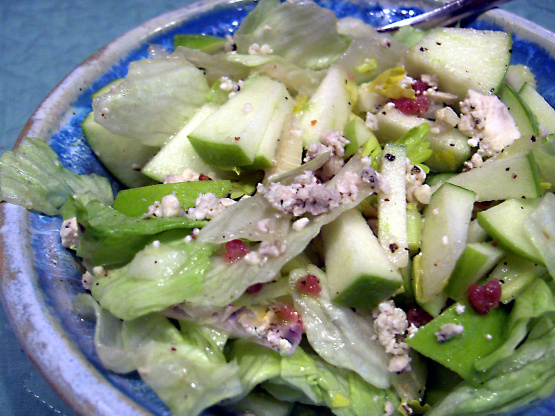 Harmonious flavors converge in this simple salad: sour lemon juice and Granny Smith apple, sweet honey and Cameo apple, smoky bacon, and pungent cheese.

Love the dressing on this salad! Very nice mixture of flavours in the salad, and the dressing enhances it beautifully. I was making it just for one so I just used one granny smith apple, feta cheese and bacon bits that I keep in the freezer. I will try it again with different kinds of apples and blue cheese. Thanks for sharing a very nice salad.
To prepare dressing, combine first 5 ingredients in a small bowl, stirring well with a whisk.
To prepare salad, combine apples, cheese, and bacon. Drizzle dressing over apple mixture; toss gently to coat. Serve over greens.