loof751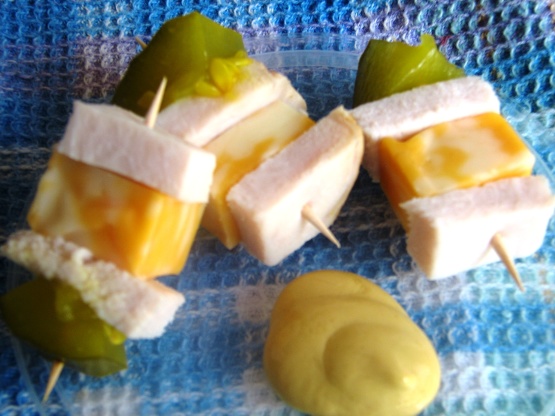 Great for when you need something to tide you over. You can pick your favorite meat and cheese...I like turkey and Cheddar.

Great idea. still have to try it out though but I m thinking.....ham+pinapple+cheese or cherry tomatoes+basil+cheese
2

whole kosher dill pickles, cut into chunks

10

cheddar cheese cubes (1/2 inch, Cheddar, Swiss, Monterey Jack)

10

piece deli turkey (3/4 inch) or 10 piece deli ham (3/4 inch) or 10 piece salami (3/4 inch) or 10 piece bologna, cubed (3/4 inch)
prepared honey mustard dressing
toothpick
Skewer 1 cheese cube, 1 pickle cube, and 1 meat cube with a toothpick.
Repeat with remaining cheese, pickles and meat.
Serve with honey mustard dressing for dipping.