Marlene.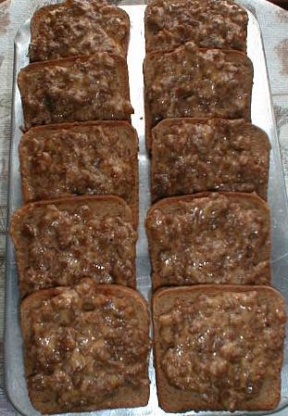 I got this recipe from a friend ... she makes these for her New Year's Eve parties.

We've had these several times now and they are always very popular, especially with the guys! I used 2 lbs sausage vs the half meat/half sausage like the recipe since that was all I had and it tasted good but a little bit too salty for me. Maybe using the beef as the recipe states would help on that. Otherwise-really easy and good!
Brown the beef and sausage until well cooked.
Drain.
Add the spices, mix thoroughly.
Add cheese, simmer with a lid, until cheese melts.
Mix thoroughly again.
Spread on party rye and bake in a 350* oven for 15 minutes.
**servingsare dependant on how thick you like to spread this mixture on the bread**.