Rita1652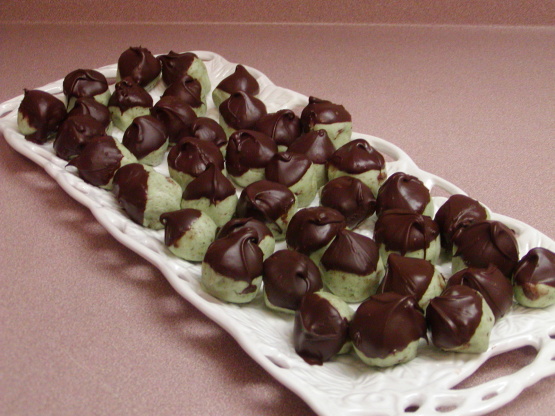 Don't know about you but I'm starting to get a jump on some of my holiday baking. This came from Midwest Living magazine years ago and has become a favorite at Christmas for us for at least 8 years. Chocolate and mint are two of my favorite combinations! Prep time doesn't include chilling time.

I found these very very sugary! I would have liked more mint flavor. After chilling the I tasted and decide to add extract of mint to the melted chocolate. I do suggest freezing the balls before dipping into the melted chocolate.I made it in a food processor. First sifting the sugar by pulsing with the metal blade. then added the nuts to the sugar chopping then fine, followed by the butter and creme de menthe. Thes rolled into balls very easy. while dipping they softened quickly. For those of you with a sweet tooth go for these and for those of you looking for mint add some extract! This is an easy no cook recipe. Thanks Laurie.
In large mixing bowl beat together 2 cups powdered sugar and the pecans, butter and creme de menthe.
Beat or stir in remaining powdered sugar.
Cover and chill 1 hour or until firm.
Shape into 1 inch balls and place on foil or wax paper lined baking sheets.
Chill 15 minutes.
In small saucepan, melt chips and shortening over low heat, stirring constantly til melted completely.
Dip one side of each ball into the chocolate.
(I use toothpicks to dip).
Return to baking sheet and chill til set.
Cover and store in refrigerator up to 1 week or freeze up to 3 months.