Mississippi Roast (Crockpot)
SharonChen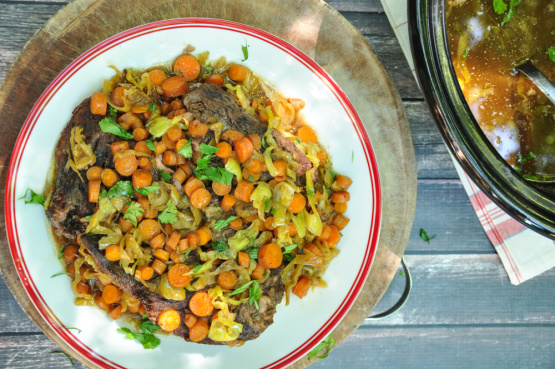 I am putting this here for safe-keeping, it looks great! From the gal who posted this recipe on the site called Sweet Tea and Cornbread: "I used a mixture of jalapeno and pepperoncini peppers. I like the pepper rings because they disintegrate in the cooking process and just become part of the gravy. Don't leave these out though, because they really add flavor to this. If you don't use too many, they don't even add noticeable heat. The butter is what makes the gravy in this soooo good!

Delicious! A friend posted this on FB and I figured the recipe would be here too. I would recommend not adding any extra salt because the au jus and ranch mix have plenty. As the poster said the peppers are a key ingredient and changes the flavor in a great way! I thickened the gravy with some Wondra flour and served it over mashed potatoes. I threw some baby carrots in with the roast and they were delicious too. My husband isn't a gravy guy and he said he could drink it. Highly recommend this easy recipe.
4

lbs chuck roast

1

(1 ounce) envelope ranch dressing mix

1

(1 1/4 ounce) envelope au jus mix
1⁄2 cup butter

4 -5

pepperoncini peppers
fresh ground pepper, to taste
Spray your slow cooker with nonstick spray.
Place roast in the slow cooker and sprinkle with a little black pepper and a little seasoned salt.
Sprinkle the top with the ranch dressing mix and the au jus mix.
Place peppers on top of mixes.
Add the stick of butter on top.
Set your slow cooker to 8 hours and forget it.
You do not add any additional water to this.
Served with mashed potatoes, but you could serve with egg noodles.