Lvs2Cook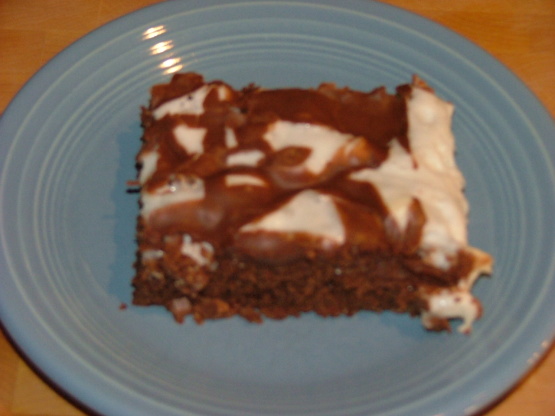 A winner from Southern Living where it is a 5 star recipe!

I brought this cake to a college girls sleepover and everyone loved it! I brought the leftovers in to work the next day, and the nurses and housekeeping staff all loved it too! Instead of 1 cup butter, I used 1/2 cup butter and 1/2 cup applesauce. Instead of 4 eggs, I used 2 eggs and 4 egg whites. No one could tell that it was lower fat. The only thing I would do differently is less sugar. It was pretty intensely sweet. But it was very tasty. :)
Whisk together melted butter and next 5 ingredients in a large bowl. Stir in flour and pecans. Pour batter into a greased and floured 15x10 jellyroll pan.
Bake at 350º for 20 to 25 minutes or until a wooden toothpick inserted in middle of cake coumes out clean. Remove from oven, top warm cake with marshmallows and return to oven for 5 more minutes.
For the frosting, combine all ingredients with a mixer until well mixed.
Drizzle chocolate frosting over warm cake.
Cool completely.