Karen..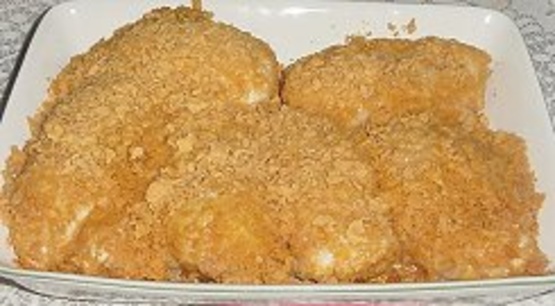 This recipe is the best! The kids will love it and Dad too! I make in the morning before I leave for work, so when I come in from work, I just pop in the oven.

This was interesting. Usually baked chicken with crumbs on it is supposed to be crunchy. These, cooked covered, are not crunchy but what a neat texture and taste for a change. Overall I prefer a crunchy texture but for a change of pace these were really good. Thank you Vicki!!
1⁄2-1 cup margarine
salt & pepper
3 -3 1⁄2 cups cheese crackers, crushed
Dip chicken in melted margarine.
Salt and pepper.
Then coat with crushed cheese crackers.
Place in baking dish and cover tightly with foil.
Bake in 300° oven for 1 or 1-1/4 hours.
DO NOT uncover until cooking time is over.
This is great to make ahead and refrigerate.
Then all you have to do is put in oven before dinner.
You can use whole chicken, cut up if you prefer.