Kiwi Kathy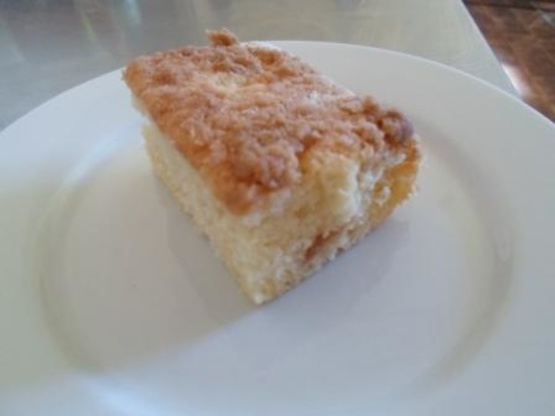 I searched through ALL 500+ coffee cakes listed, and did not find one like this !! Have NO idea who Miss Helen was, but my MIL gave me this recipe when we were first married (48 years ago), and it has always been a favorite - and a hit.

Mike loves YOU!!! and of course Miss Helen! LOL I made thos for him to take to work. He called to say I had to make more because everyone ate it up! So made a 2nd one Sat morning for him to take to the cottage whilst doing the opening up with some buddies. um he did not share LOL he said it was too good so he ate some for breakfast, then lunch then after dinner and on Sunday morning again! OMG! Ok so today, MONDAY I made a 3rd one and split the batter in 2- 8" rounds. One is for tonight when he gets home as FIL is coming over for dinner and I plan to put scoops of ice cream on top and the other round is for him to take to work again if it makes it. LOL
SO my dear friend 5 stars all around the house 3 days in a row!!!
Cut stick of butter in half length-wise, then cut each half in half lengthwise, to make 4 long pieces.
Cut 4 pieces into cubes and keep cold.
Mix topping and set aside.
Mix batter ingredients.
Spread stiff batter into buttered 9x13 baking dish.
Push butter cubes into batter.
Pour topping evenly over batter.
Bake at 350 degrees for 20-30 minutes, until inserted knife comes out clean.