Miso Soup With Enoki Mushrooms
dicentra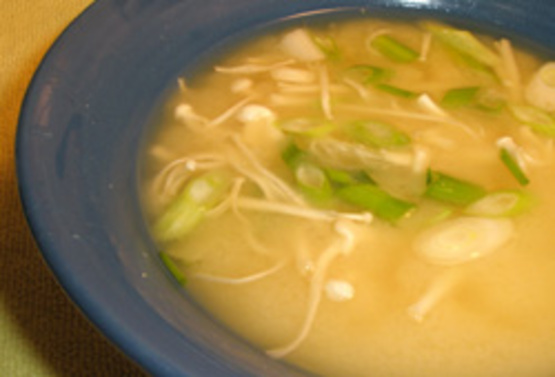 Cooking Light. I just happen to have Enokis in my fridge right now too! I will make this with only one type of miso. Use whatever you have. The recipe also calls for 1/4 cup dried shaved bonito (dry fish flakes) but Zaar doesn't recognize it.

Hi! So glad you posted a Miso Soup recipe. I have a suggestion, but you'll have to go to a Japanese market to try it...The bonita flakes (Dashi Moto, for example) comes in tea bags, now, so you don't have to strain the water. It's so cool! Also, I use 100% red miso, as I cannot afford two types of miso, but I love it.
Combine water and bonito; let stand 2 minutes. Strain the liquid through a fine sieve into a bowl; discard solids.
Bring the liquid to a boil in a large saucepan. Add yellow and red miso and soy sauce; stir well with a whisk until smooth.
Divide the enoki mushrooms and tofu evenly among 6 soup bowls, and ladle 1 cup soup into each bowl.