Ingy1171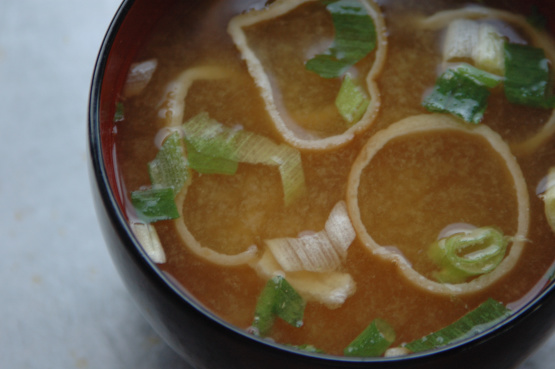 A very traditional Japanese soup

Great Recipe! I could have miso soup every day (and do sometimes). I used white miso instead of red, as I like the milder flavor, and I omitted the mushrooms, and added wakame seaweed (dried and boiled in the soup until it expands). Delicious!
----------Make the dashi---------.
Bring water to a boil.
Wash Kelp under cold water tap.
Add to water when it comes to a boil.
Stir and let boil 3 minutes.
Remove kelp from the water and add the bonito.
Allow to come to boil and remove from heat immediately.
Let it settle for a few minutes.
Strain off the bonito and set aside for whenever you need the dashi.
---------Make the Miso Shiru-----------.
Bring the dashi to a boil.
Mix a little hot liquid with the bean paste, stirring until smooth.
Pour mixture back into the saucepan, stir well.
Add tofu and return to boil.
Simmer for a few seconds only.
Ladle into bowls and garnish with green onion and a slice or two of mushroom.