Miso Shiitake Breakfast Soup
Parsley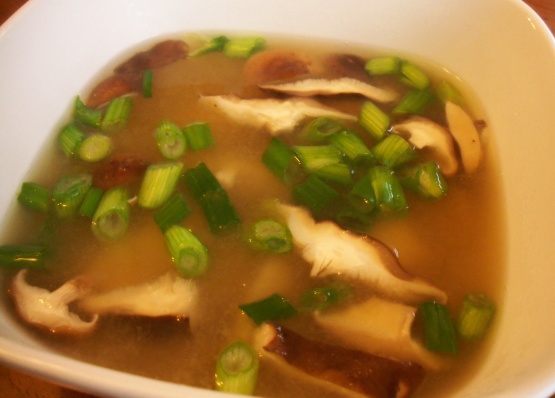 This is a wonderful light and filling soup. It's a great way to start the day. This is very healthy. Miso is a soy protein and shiitake is a type of mushroom. You should be able to find these in most health stores, or Asian grocers.

Great miso recipe. Looksvery quickand convienient However not only is miso a soy protein, it's an awesome probiotic. And it should NEVER be boiled, instead brought just an boil. Doing so kills any nutrients. And an authentic recipe calls for a dashi broth, which you will never eat another mans miso again after being made that way.
If using dried mushrooms, soak in warm water for 20 minutes then drain.
Slice the mushrooms thinly.
Pour the boiling water into a saucepan, stir in the miso. Add the mushrooms and simmer for 5 minutes.
Divide the tofu between 4 warmed soup bowls. Ladle in the broth. Scatter chopped scallions on top and serve.
Try this with my Chanterelle Croissants (recipe #21676).