momaphet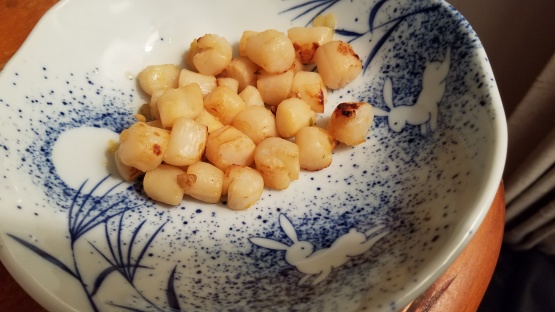 This is so easy. The cooking time listed reflects 1/2 hour of marination time, but it can be as little as 15 minutes or as long as 24 hours. The recipe doesn't specify which kind of miso, I would assume it's white or yellow miso. This recipe comes from Mark Bittman's Best Recipes in the World. He says "it's a traditional dish, in some parts of Japan the home-cooking equivalent of slathering something with barbecue sauce before cooking. For ease of use and strict authenticity, the miso should be thinned with mirin - it's too thick to use straight. Mark talks about different types of mirin and suggests that hon-mirin is superior to aji-mirin, all good if you have access to a good Asian market!
Made as written, I marinated the scallops for about 45 minutes and found despite all the delicious flavors in the marinade they didn't really take hold. The onion was probably the most dominant. So while the scallops were good, it didn't seem quite worth the effort. Made for Culinary Quest 2016
Preheat a broiler (or grill), setting the rack as close as possible to the heat source. Put the miso in a bowl, add the mirin and whisk until smooth. Stir in the onion, a little bit of salt, and a pinch of cayenne.
Add the scallops and marinate while the broiler or grill preheats, or refrigerate for up to a day.
Broil until lightly browned, without turning, for 2 to 3 minutes, or grill, turning once after a minute or 2. Sprinkle with the lime juice and serve.