Miriam's Salad With Poppy Seed Dressing
Marney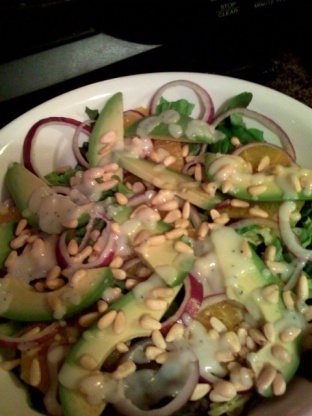 This salad is light and tangy. It has a great mix of textures. Last time I made this I didn't have walnuts so I used pinenuts instead, they were great and my husband said he liked it even better.
For the dressing:.
Blend first 5 ingredients in a blender. With the motor running, add the oil gradually.
Stop the blender and add the poppy seeds stirring with a spoon to combine. (Do not use the blender after adding the poppy seeds).
For the walnut croutons:.
Sauté the nuts in the butter and salt until toasted smelling and crispy.
For the salad:.
Arrange the lettuce in a large salad bowl. Dress with 1/4-1/2 cup of the dressing. Scatter the orange, avocado, onion and walnut croutons on top.
Serve immediately.