Minute Rice Five Spice Casserole
Bec6206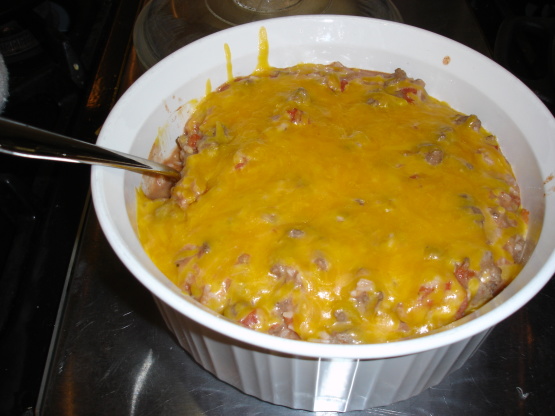 Back around 1950, my grandmother found the recipe off the back of the Minute Rice box. Since then, it has become a family favorite, that we all request at some point in time. It is rather easy, and we usually serve it with cole slaw as the side dish. Plus, it makes wonderful leftovers!

Great Recipe! Fast and Easy. I've had this recipe since my childhood and have always loved it. I have tweaked the original recipe and made it even more amazing like other reviewers have done with diced or crushed tomatoes and if you have an herb garden, throw in a palm sized handful of fresh chopped thyme and oregano instead of dried as it has a wonderful flavor and adds color, My mother used sliced process cheese, but shredded cheddar or a combo of shredded cheeses are best. I decrease the salt to 3/4 tsp and don't use the oil to brown the meat as it doesn't need it. Green olives are good as a garnish but I find sprinkling capers over the cheese before browning the cheese is delightful. I also make it in a 12 inch oven safe skillet and don't transfer it like I use to. My gourmet husband loves it and calls it the best comfort food ever.
Brown meat in oil, add onions and cook until tender.
Stir in seasonings, soup, tomatoes, and Minute rice.
Simmer 5 minutes.
Stir occasionally.
Spoon into 1 1/2 quart baking dish. (But I only use a cast iron skillet, since it is both oven and stove top friendly. Plus, my Grandmother always made it in a cast iron skillet, and I did learn from her. She was the best cook for comfort foods.).
Criss cross with cheese and broil until cheese melts.
Garnish with olives if desired.
Instead of olives, we sometimes use jalepenos.
Also, this recipe works well when you cook it in a cast iron skillet- you only dirty one dish that way!