Derf2440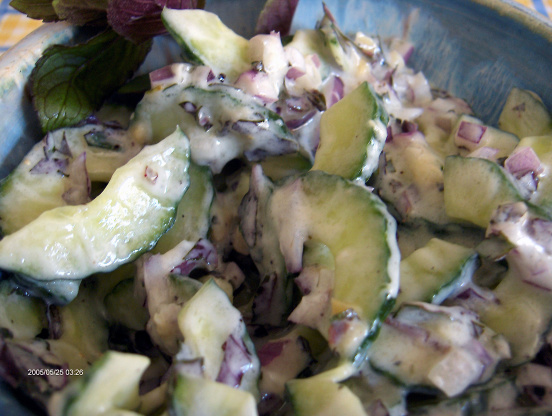 Refreshing mint and crisp cucumber. I usually cut this in half for the two of us.

This is exactly the way my grandmother used to make it! It's a nice light side dish to burgers or a Mediterranean dinner. She used to whip it up for lunch, also.
Press garlic, slice cucumber in half lengthwise. Using a small spoon, scrape out and discard seeds. Thinly slice cucumber.
Place garlic, cucumber, onion and mint in a large bowl.
In a small bowl, stir yogurt with oil, salt and pepper until blended. Stir yogurt mix into cucumber mix.
Refrigerate for at least 30 minutes.
Will keep well in fridge for a day.
Can be served in lettuce cups.