Minted Pomegranate Yogurt With Grapefruit Salad
Rita1652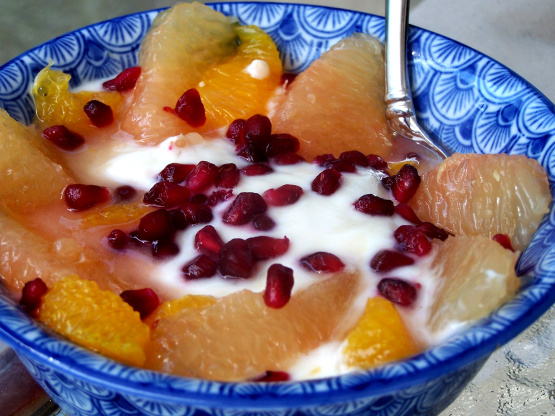 From: "The Essential African Cookbook" by Rosamund Grant.

Yummy. Tart with a little sweetness of raw honey I added to the pink grapefruit and limes I used. I love the limes in the version I made. I used proper thick Balkan yogurt. I must admit I used dried mint since it's all I could find. I did not add any sweetener to the yogurt. Pomegranate seeds are one of the sweetest fruit. I used the orange flower water option. I adore it on fruit. I may make this again insha Allah using fresh mint. Made for Holiday Appetizers and Sides Tag Game Dec 2010 in KK's forum.
Put the yogurt in a bowl and beat well. Fold in the pomegranate seeds and chopped mint. Sweeten with a little honey or sugar, if using, then chill until ready to serve.
Peel the grapefruits, cutting off all the pith. Cut between membranes to remove segments, holding the fruit over a bowl to catch the juices.
Mix the fruit segments with the reserved juices and orange flower water and add a little honey or sugar, if using. Stir gently then decorate with a few pomegranate seeds.
Decorate the chilled yogurt with a scattering of pomegranate seeds and mint leaves, and serve with grapefruit salad.
*Variation: You can use a mixture of oranges and blood oranges, intersperesed with thin segments of lemon. Lime segments work well with the grapefruit and mandarins or tangerines could be used too. As the idea is to create a refreshing, scented salad, juicy melons and kiwi fruit would also be ideal.