Rita1652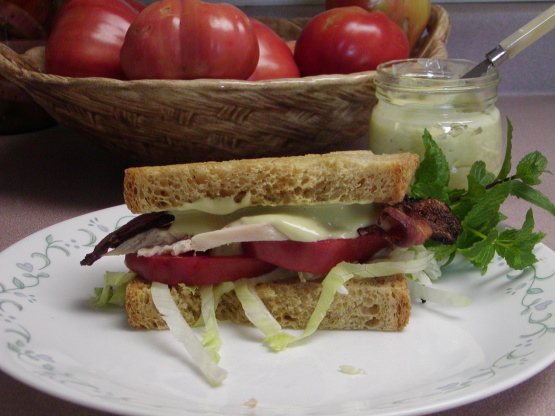 This is to go with my Prawn and Cauliflower Salad recipe but would go well with any seafood

Yes, I agree this would be great on seafood. But I used it on a sandwich made with leftover chicken, bacon, the last of my garden tomatoes and lettuce. I did make the oil a couple day before hand and and kept it refrigerated till ready to make. Thanks for something different!
Place the egg yolks in a bowl and use a whisk to mix in the lemon juice, mustard and a little salt.
Beat continuously, adding minted oil 1 tablespoon at a time until all the oil is incorporated and the mixture is smooth and creamy.
Minted olive oil instructions.
bring the oil slowly to temp of 70-80d in a pan.
If you don't have a thermometer, don't boil it, it is better to be colder than too hot.
Place the mint in a heatproof bowl and poor the oil over it, mix well and allow to cool.
Strain oil into a jar and discard the mint.