Peter J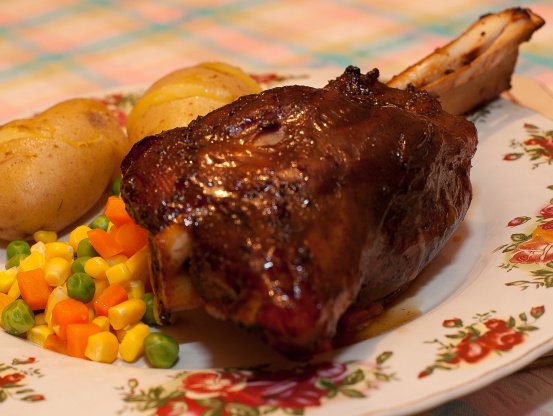 This was emailed to me by a New Zealand friend. Just wanted to store it here.

We liked this. The flavour was goood.. DH and I both agreed that even more root ginger would have been nicer, my real problem was that I somehow tore a little hole in my foil (that I didn't notice) and the leaked glaze really caused havoc in the pan, as the sugar and honey burnt rather easily and that mix bubbled back onto the chops leaving a very brown coating indeed. The result was definiately edible but I will learn from my mistake and double foil line the pan next time, or be more careful, or both LOL. Our chops were also very thin indeed so needed less time to cook, so do watch the cooking time. Because of my own error I would like to make this recipe again before giving a star rating, and I will update the review accordingly then. I do have a photo but feel that it might not be representitive of the dish as it's meant to be, so will update that later too. Thanks!
Preheat oven to 160°C.
Place all glaze ingredients in a bowl; mix well.
Line a roasting pan with foil leaving a generous overhang.
Place the lamb shanks in pan & brush generously with glaze reserving any remaining glaze.
Fold over and seal foil so that shanks are completely enclosed.
Cook in oven for 1 1/2 - 1 3/4 hours.
Uncover shanks and baste with remaining glaze.
Return to oven for a further 30 - 40 minutes or until shanks are tender, baste with glaze in the pan 3 or 4 times.