Minted Couscous With Roasted Vegetables
Katzen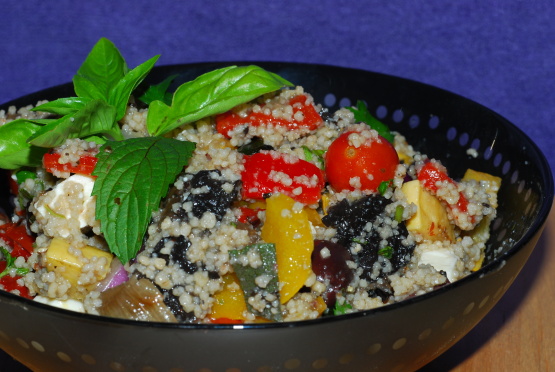 Couscous, traditional Berber food, is one of North Africas' great dishes. Here, mixed with lemon juice and mint and served with roasted vegetables, it makes a memorable meal. This is a family favourite, my youngest DD in particular is a couscous addict! (Preparation time does not include 3 - 4 hours marinating time) From Linda McCartneys World of vegetarian Cooking

Top Review by Katzen
A delicious summer salad that looks so involved to make, but is really quite easy! I used homemade vegetabe stock instead of water for the couscous, and as I didn't have any aubergine, used a yellow squash (zucchini) and five portabella mushrooms. I also tossed in most of a pint of grape tomatoes that had been roasted. I only used half the olive oil prior to roasting the veggies - I didn't add any more when making the salad, as it didn't need it - it was delicious enough! And I did toss in some feta cubes, too. Delish! Thanks, Karen Elizabeth! Made for Veggie Swap 13.
Roasted vegetables

1

large aubergine, cut into chunky batons

1

lb courgette, cut into chunky batons

1

large red onion, cut into 8 wedges

12

garlic cloves, in their skins

10

basil leaves, torn roughly

1

sprig chopped fresh parsley

4 -6

tablespoons olive oil

1

red pepper, grilled, skinned, quartered and de-seeded

1

yellow pepper, grilled, skinned, quartered and de-seeded

4

field mushrooms, sliced

15 -20

black olives, pitted

Minted Couscous

8

ounces couscous

1

pint water, boiled
1⁄4 pint olive oil

1

yellow pepper, de-seeded and chopped finely

4

spring onions, chopped finely

4 -6

tablespoons chopped of fresh mint
Roasted vegetables:.
Put the prepared aubergine, courgettes, onion and garlic into a large bowl with the basil and rosemary. Sprinkle with half the olive oil and toss well. Leave to stand at room temperature for 3 - 4 hours.
Pre-heat the oven to 220c/425F/gas 7.
Spread the vegetables onto a baking tray or trays, in a single layer, and drizzle with the remaining olive oil.
Roast for 15 minutes, then add the peppers, mushrooms and olives, and toss.
Return to the oven and roast for a further 10 - 15 minutes until the vegetables are tender, turning once more before the end of the cooking time.
Minted Couscous:.
Put the couscous into a large bowl, and pour the boiling water over it. Stir for a couple of minutes until the water has absorbed and the couscous is tender, about 6 - 7 minutes.
Add the olive oil, lemon juice and zest, and mix them in thoroughly.
Stir in the chopped pepper, spring onions and mint. Season with salt and pepper, and serve with the roasted vegetables.