Minted Applesauce With a Hint of Redcurrant
Annacia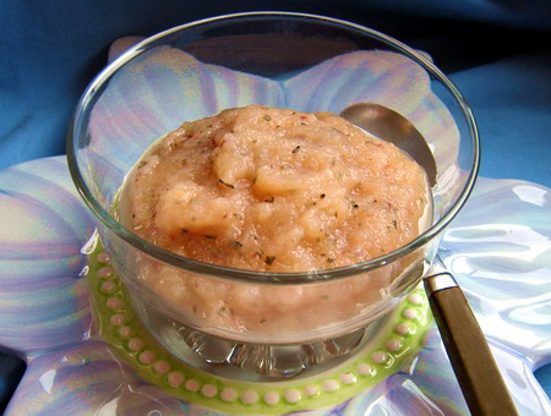 This is great served with roast lamb or pork.

Slight alteration in mine. Dh pigged out on the last of the currant jelly so I used raspberry jam and skipped the salt and pepper. I wussed out and used bottled unsweetened applesauce. I thought the vinegar was interesting in this, not something I would have thought to add myself. The mint was delightful and I'll try it from scratch when the weather is cooler because I know that it would be even better.
Place apples and water in saucepan over medium heat.
Cover and cook stirring occasionally for 15 minutes or until apples are tender.
Roughly mash apples, remove from heat and set aside.
Place mint into a small heatproof jug.
Pour boiling water over mint and stir to combine.
Add mint mixture, sugar, vinegar, redcurrant jelly and salt and pepper to apple, stir to combine.
Simmer, stirring occasionally over medium-low heat for 3-4 minutes or until redcurrant jelly dissolves.
Serve with roast lamb or pork.