I make regular iced tea, and use this to add to it. Using a squeeze bottle makes it more convient to add to an individual glass of tea. From Chef Bobo's Good Food Cookbook, by Robert Surles.
Directions
Bring all items to boil.
Stir in sugar.
Remove from heat.
Let steep for 30 minutes.
Strain syrup.
Transfer to squeeze bottle and chill.
Most Helpful
Wonderful! I harvested some of my mint today and made this syrup without the ginger. I tripled the recipe and have frozen the majority in ice cube trays, perfect portion sizes for drinks! I'll use them in smoothies, iced tea, sparkling water, and mint juleps. Thanks so much for sharing this very easy and great recipe.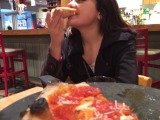 This was absolutely what I was looking for today! I like a small dash of mint syrup in a glass of sparkling water and it dawned on me yesterday, at the grocery store, how ridiculous it was to pay $5 for an artificially flavored bottle of mint flavored syrup when the produce section had lovely bunches of mint. (for the previous reviewer, one "bunch" of mint in my store was just over 1/2 an oz. or 38 grams) I came home with some nice fresh mint and sat down to find a recipe. (I know it's so easy, I shouldn't have needed a recipe but I'd never steeped mint or herbs before!) I didn't have any ginger but even with that flavor dimension missing, it's a lovely syrup that gave just the right touch to my carbonated water!
My goodness, this is just to good to be so easy! I LOVED IT!!!! My only complaint is that I wish you were more specific with mint amounts. I used about 6 (6 inch lengths) sprigs of fresh mint. I don't know what you call a "bunch". But anyway it must have been close because the taste was wonderful. My only change was to use splenda instead of sugar to cut calories and it worked wonderfully. Thank you WiteShadow for posting this wonderful syrup.