Mint Glazed Rack of Lamb for One
Bergy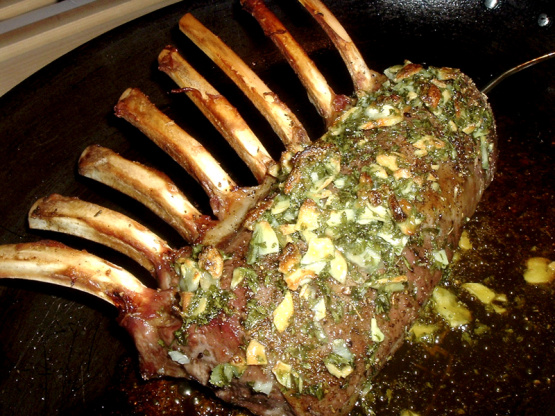 I played with this tonight and ended up with a rack of lamb that I enjoyed very much. You may want to adjust the time to your liking of the degree of done. I served it with brown baked potatoes, steamed sugar snap peas & carrot shoe strings

Another nice recipe thanks Bergy. 18yo son (rack of lamb is one of his favourite foods) and I had this tonight, and enjoyed it a lot. I substituted fresh minced rosemary, and mixed a tablespoon of fresh parsley through the mint jelly. All those herbs and flavours went well with the lamb and together.
Season your rack with the rosemary, oregano& salt& pepper.
Have your oven temp at 375 degrees F.
Place your rack in an open oven proof pan and cook for about 20- 25 minutes (it depends on how thick the rack is).
Meanwhile, melt the jelly with the garlic and parsley in a small saucepan.
Take out the rack and pour the glaze over it.
Return to oven, apprx 10 minutes, until the internal temp reaches 160-165 degrees F.
This will have the rack still a bit pink.