Mint Chocolate Chip Cheesecake Bites (Freeze-Ahead)
J-Lynn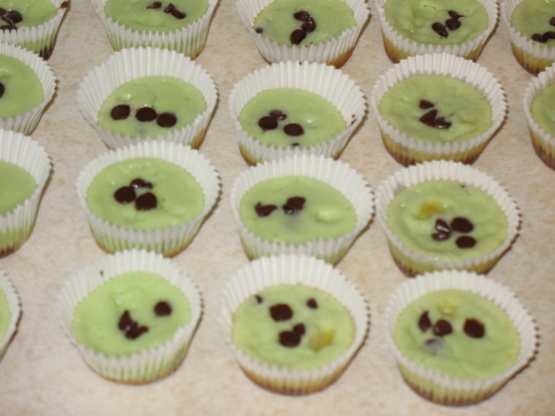 A nice step away from those pre-made frozen cheesecake bites. It involves premade chocolate-chocolate chip cookie dough as a graham cracker crust simply does not do this justice. You will need mini-muffin tins to do this, they usually hold about 12 mini-muffins and the recipe yields 48. And yes, 1/8-tsp spoons are actually made! You can find them at Family Dollar. If you don't have this size or a sliding spoon to use, about 10 drops will equate to 1/8 tsp. Peppermint is very strong; a little goes a long way.

Top Review by J-Lynn
Yum!!! And I got almost 6 dozen, so I'm still eating them! But I could have filled the cups more with cheesecake mixture. I didn't know if it would puff up or anything- it doesn't. Next time I'd fill within 1/4 inch from the top of the paper. I made a Betty Crocker chocolate cookie mix for the crust (sold in a bag) because I couldn't find chocolate pre-made dough anywhere! The chunks in my mix were annoying because you need to put such a little bit in the paper! I also used mint extract (peppermint and spearmint)- but it's not nearly as strong as straight peppermint. I used 1/4 tsp. and it was barely noticeable in the finished bites. I'll know better next time. Great recipe! Very accurate cook times.
CRUST

1

(8 ounce) packagechocolate refrigerated chocolate chip cookie dough (yes, all-chocolate cookie dough)

FILLING

8

ounces cream cheese, softened to room temperature

1

(14 ounce) can sweetened condensed milk

1

egg

6 -8

drops green food coloring
1⁄8 teaspoon peppermint extract (about 10-12 drops)

5 -6

drops chocolate extract
1⁄3 cup miniature chocolate chip
Preheat the oven to 325°F and line the mini muffin tins with these teeny tiny mini muffin papers.
Cut the cookie dough into pieces about the size of your thumbnail and place a piece into each muffin tin. You may have some leftover cookie dough; a standard tube will be more than enough to make 48 of these mini-muffin size concoctions.
Bake the cookie dough pieces for about 7-10 minutes, or until they have covered the bottoms of the papers and appear baked through.
While the cookie dough bakes, make the filling by beating the cream cheese, egg, and sweetened condensed milk together in a mixing bowl.
Flavor with the extracts-- 1/8 tsp mint or about 10-12 drops, and about 5-6 drops chocolate extract. Use creme de cacao liquer (doesn't matter if it's light or dark) or vanilla extract if you don't have chocolate extract handy. Beat them in first.
Then color with the food coloring, a lovely pale green should result. About 6-8 drops should do it, you'll be reminded of Shamrock Shakes from the 80's and that's just cool.
Gently beat in the chocolate chips into the mixture.
When the cookie dough is done baking, put about 2 teaspoons of the mixture into each mini cup.
Bake again at the same temperature for 12-15 minutes, or until set.
Let the cheesecake bites cool completely in the muffin tins on a wire rack for about 15-20 minutes.
If serving the same day or next day-- let refridgerate for at least 1 hour prior to eating/serving.
If freezing-- let cool to room temperature and store in an appropriate container with the paper still on. They will keep for about 3 months (but I doubt they will last that long!).